Latest News-Hydrogen Connect Summit Sept 2023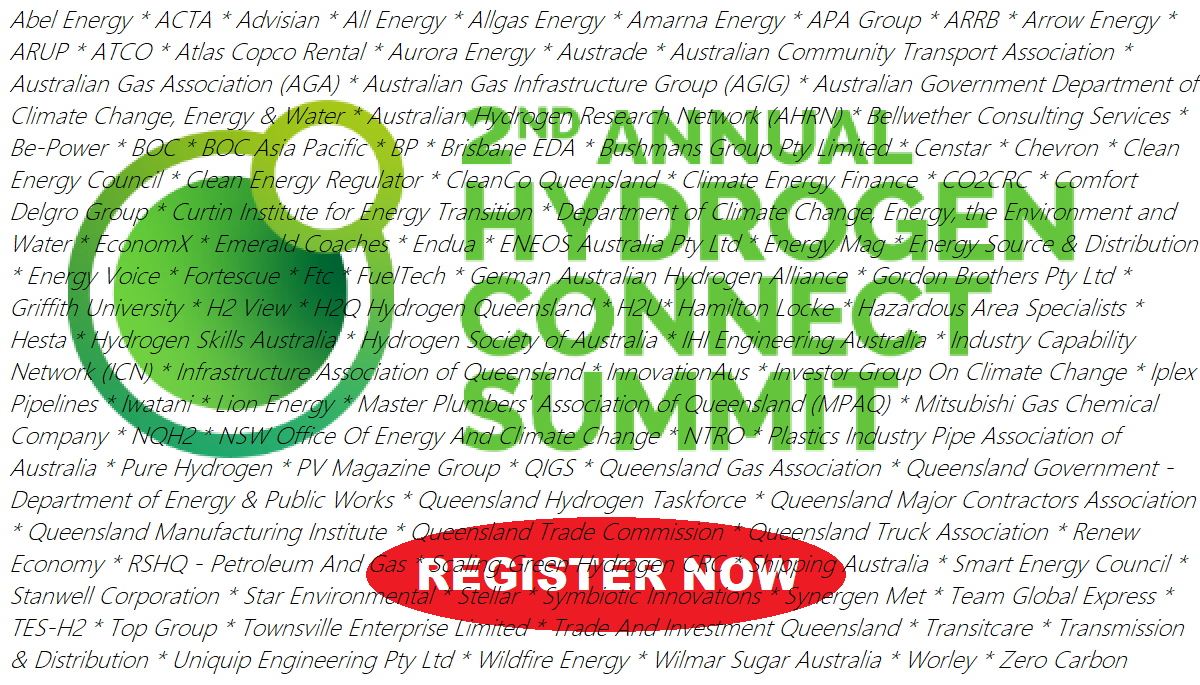 Date: 31-Jul-2023
2nd Annual Hydrogen Connect Summit
6-7 Sept 2023 | Brisbane Convention & Exhibition Centre Pre-Summit Workshops & Site Tours on 5 September 2023 (limited spots)
The Queensland Gas Association is proud to be a Supporting Partner on Hydrogen Queensland's 2nd Annual Hydrogen Connect Summit 2023. The QGA is excited to offer its Members a Special 20% Discount off Summit registration. To take advantage of this offer please register via this unique registration link: https://rb.gy/jmmee and enter the Discount Code (located in the Members Portal)
RE: Hydrogen Connect Summit - 5 weeks to go, see who's already signed up!
As we edge closer to the much-anticipated 2nd Annual Hydrogen Connect Summit (6-7 Sept 2023 at the Brisbane Convention and Exhibition Centre), more and more businesses are signing up to attend.
Here is a snapshot of participating companies so far:
Abel Energy * ACTA * Advisian * All Energy * Allgas Energy * Amarna Energy * APA Group * ARRB * Arrow Energy * ARUP * ATCO * Atlas Copco Rental * Aurora Energy * Austrade * Australian Community Transport Association * Australian Gas Association (AGA) * Australian Gas Infrastructure Group (AGIG) * Australian Government Department of Climate Change, Energy & Water * Australian Hydrogen Research Network (AHRN) * Bellwether Consulting Services * Be-Power * BOC * BOC Asia Pacific * BP * Brisbane EDA * Bushmans Group Pty Limited * Censtar * Chevron * Clean Energy Council * CleanCo Queensland * Climate Energy Finance * CO2CRC * Comfort Delgro Group * Curtin Institute for Energy Transition * Department of Climate Change, Energy, the Environment and Water * EconomX * Emerald Coaches * Endua * ENEOS Australia Pty Ltd * Energy Mag * Energy Source & Distribution * Energy Voice * Fortescue * Ftc * FuelTech * German Australian Hydrogen Alliance * GISP H2 * Gordon Brothers Pty Ltd * Grandshake Green Skills Academy * Griffith University * H2 View * H2Q Hydrogen Queensland * H2U* Hamilton Locke * Hazardous Area Specialists * Hesta * Hydrogen Skills Australia * Hydrogen Society of Australia (HSA) * IHI Engineering Australia * Industry Capability Network (ICN) * Infrastructure Association of Queensland (IAQ) * InnovationAus * Investor Group On Climate Change * Iplex Pipelines * Iwatani * Lion Energy * Marubeni Corporation * Master Plumbers' Association of Queensland (MPAQ) * Mitsubishi Gas Chemical Company * NQH2 * NSW Office Of Energy And Climate Change * NTRO * Plastics Industry Pipe Association of Australia (PIPA) * Pure Hydrogen * PV Magazine Group * QIC * QIGS * Queensland Gas Association (QGA) * Queensland Government - Department of Energy & Public Works * Queensland Hydrogen Taskforce * Queensland Major Contractors Association (QMCA) * Queensland Manufacturing Institute (QMI) * Queensland Trade Commission * Queensland Truck Association (QTA) * Renew Economy * RSHQ - Petroleum And Gas * Scaling Green Hydrogen CRC * Shipping Australia * Smart Energy Council * Stanwell Corporation * Star Environmental * Stellar * Symbiotic Innovations * Synergen Met * Team Global Express * TES-H2 * Top Group * Townsville Enterprise Limited * Trade And Investment Queensland * Transitcare * Transmission & Distribution * Uniquip Engineering Pty Ltd * Wildfire Energy * Wilmar Sugar Australia * Worley * Zero Carbon Hydrogen Australia * Zone Planning Group
REGISTER NOW:
* SAVER RATE = $2,395.00 (inc.GST) expires on Friday 11th August.
* Group Bookings of 4 or more save an additional 20%.
* Reduced rates available for Start-ups, SMEs, Students & Trainees.
View the latest list of confirmed Speakers: https://rb.gy/fw0uu
View the most up-to-date Program: https://bit.ly/428ule6
Newly confirmed sessions include:
* Ministerial Keynote: Enabling Queensland's Vision and Ambitions to Achieve Global Leader Status in Hydrogen in Response to the Inflation Reduction Act (IRA) and Other Global Policies
Featuring: The Hon Assistant Minister Lance McCallum MP, Queensland Government
* Panel Discussion: Central Queensland Hydrogen Project: International Investment and Offtake Collaboration to Fulfill our Mega Project Vision and Meet Customer Expectations
Featuring: Stanwell Corporation and Marubeni Corporation
* Panel Discussion: Leveraging and Assessing the Success Criteria of Grant Funding Initiatives: to De-risk Investment, Production, Distribution and Early Transition Offtake and the Advancement of Renewables
Featuring: NQH2, Scaling Green Hydrogen CRC, Team Global Express, Endua
* Panel Discussion: Focus on Asia: Investment and Offtake Commitments and Future Intentions to Grow the Australian Hydrogen Economy to Achieve Asia's Decarbonisation Ambitions
Featuring: Mitsubishi Gas Chemical, ENEOS, IHI Engineering, Queensland Trade Commission
*Panel Discussion: Hydrogen Social License Lessons Learned and Next Steps Required
Featuring: Cleanco, Stanwell Corporation, Star Environmental and Curtin University
* Panel Discussion: Aligning European, Australian, American and Asian Emissions Accounting, Reporting and Trading Rules to Substantiate Emissions Claims Associated with Hydrogen Energy Use
Featuring: Aurora Energy, NSW Office of Energy and Climate, Department of Climate Change, Energy, the Environment and Water (DCCEEW)
Premier Partner:

➤ What? 2nd Annual Hydrogen Connect Summit 2023 ➤ When? 6-7 September 2023 (Pre-Summit Workshops & Technical Tours on 5 September) ➤ Where? Brisbane Convention & Exhibition Centre ➤ Who? 600+ C Suite Executives, Heads of Department, Academic Professionals, Senior Management representing upstream, mid-stream and down-stream layers across Australia's Hydrogen supply chain. ➤ How? Register Now & SAVE!
Back to list